Interior Stains & Finishes
General Finishes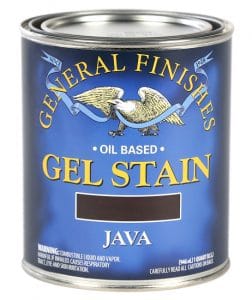 Oil Based Gel Stains
Gel Stain from General Finishes is home of the popular Java Gel Stain featured across the nation's social media for upcycling furniture and cabinets. Gel wood stains are heavy-bodied and do not penetrate as deeply into the wood as liquid oil-based wipe-on stains do, providing the deepest, riches colors of any oil-based stain available.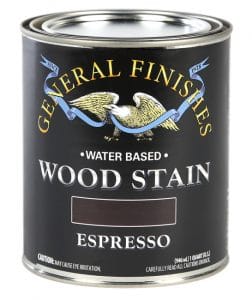 Water Based Wood Stain
General Finishes Water Based Wood Stains are formulated to provide workability similar to oil-based stains. They spread easily, can be repaired, blend effortlessly, and have plenty of open time. The thicker formula of these wood stains allows for controlled penetration, and their high-quality pigments produce rich, dark, uniform colors, on hard-to-stain woods like maple and pine. Low odor, low VOC, water cleanup and noncombustible.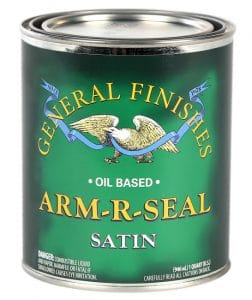 Arm-R-Seal Oil Based Topcoat
Arm-R-Seal Topcoats are made with the highest-quality urethane resin, making them extremely durable and long-lasting. These oil-based finishes are formulated to be wiped on with a cloth or applied with a foam brush, and they penetrate to provide deep-down protection for the "natural" look.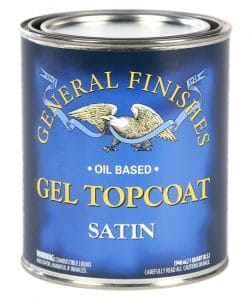 Oil Based Gel Topcoat
Gel Topcoat has been a long-time favorite finish of woodworkers, with a heavy-duty oil-and-urethane base that produces a beautiful, hand-rubbed look. Gel Satin Topcoat has a thick consistency, so there are no drips, runs, or spills.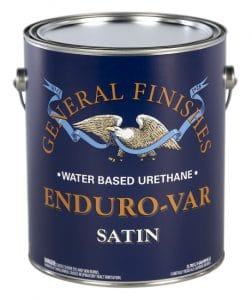 Enduro-Var Water Based Urethane Topcoat
Enduro-Var wood finish is a self-crosslinking, oil-modified, water-based polyurethane that looks more like an oil varnish than a water coating. It ambers slightly, is highly water resistant, and is both sprayable and brushable. Enduro-Var water-based topcoat adheres well ONLY over Water stains, dye stains, and raw wood. High Performance Polyurethane Water Based Topcoat Winner of Fine Woodworking's "Best Overall Choice Award," High Performance Topcoat was voted as the hardest, most durable consumer polyurethane topcoat.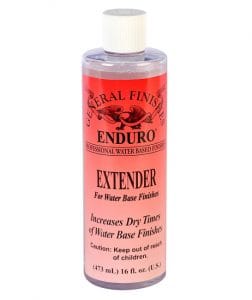 Extender
Extender is a wetting additive used to improve flow and leveling and slow the drying time of any water- based stain, topcoat, or glaze, which is helpful in hot, dry conditions.
Looking for inspiration? Click here to check out General Finish's Design Center
Benjamin Moore Lenmar Wood Finishes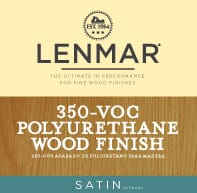 350 VOC Polyurethane Wood Floor Finish
These, 350 VOC, oil-modified polyurethane is for the professional hardwood floor refinisher. Benefits include superior flow-out for a smooth self-leveling finish and an exceptional amount of solids for maximum build. Available in satin, semi-gloss, and gloss. Stock varies by location.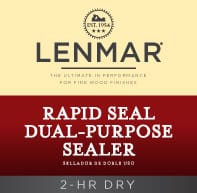 RapidSeal Dual-Purpose Sealer
An oil-modified sealer that dries to buff in 2-3 hours. This product is designed to work great under Lenmar waterborne and polyurethane floor finishes. This sanding sealer allows the finisher to achieve the look of an oil-based finish with the speed of a waterborne. Rapid Seal achieves excellent adhesion to properly prepared substrates, applied with a variety of applicators, flows well, self-levels, and sands easily.
Polyurethane Wood Floor Finish – Dull Rubbed
Oil-modified polyurethanes designed for the professional hardwood floor refinisher for use in commercial and residential applications, as well as gyms. Smooth, self-leveling finish with superior flow.
Other Interior Stain and Finish Products Include
Vermont Natural Coatings
Danish Oil
Tung Oil
Last n Last
Varathane
Stock varies by location.