Windows
New Construction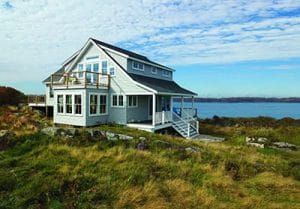 Available in Andersen's most popular options and sizes, the 200 Series offers Andersen quality at an uncommon value.
The 400 Series brings you the best overall blend of performance and style to satisfy just about any window need. With years of engineering and craftsmanship to build on, these windows offer various shapes, styles, and colors to fit any style.
As part of Andersen's Architectural Collection, a-Series windows were designed in tandem with architects to provide authentic architectural style to the very last detail. They are Andersen's best performing, most energy-efficient windows offering you confidence and peace of mind. With A-Series windows, it has never been so easy to understand your options and select the windows that fit not just your home but also your vision.
For unmatched flexibility and design freedom, Andersen's E-Series windows are made to your exact specifications. They allow you to create custom shapes, dramatic sizes, and striking combinations to set your work apart. You can choose from 50 standard exterior colors, custom colors, and anodized finishes, plus a range of interior wood species and beautiful interior stains. Or, if you want something even more distinctive, Andersen can source virtually any wood species you desire. If it's possible, it's possible with E-Series windows.
Continue reading about Andersen Windows here
Mathews Brothers
The Spencer Walcott Series of vinyl windows are specifically designed to meet the discerning needs of architects, builders, homeowners, and the residential building industry's changing needs. The result is an energy-efficient family of vinyl windows that feature aesthetically integrated window styles, strength, and durability. Committed to performance and available in a variety of sizes and shapes, you are sure to find the window that fits your needs and budget.
Mathews Brothers took their years of experience making wood windows to create a window that maintains the historical look of wood windows and vinyl's thermal and structural performance. Offering multiple exterior casing options, standard or historic sill nose options, triple insulating glass units, standard low-profile or hidden tilt latches, optional unfinished wood-based interior, and multiple grill options, you'll be sure to find something that fits your style. Additionally, the double hug boasts a performance grade 50 rating without upgrades, while the casement boasts commercial grade 65.
Learn more about Mathews Brothers here 
Loewen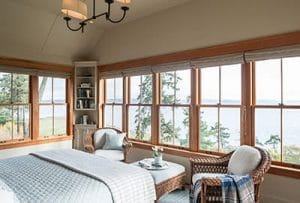 Loewen windows are highly customizable, whether you are looking to retrofit an elegant, traditional-style home or aiming for a highly contemporary look. Loewen frames and sashes are available in pre-primed or clear wood for a natural look. Exteriors may be clad in low-maintenance extruded aluminum, available in 70 different finishes, including cladding in natural or patinated copper or bronze from their Cyprium collection.
Unlike other window manufacturers, Loewen only uses Coastal Douglas Fir or Mahogany in their frames and sashes. These tightly grained woods give the windows a rich, warm texture. They're also naturally tough and resilient yet remarkably workable for the most intricate detailing. Learn more about Loewen here
Sierra Pacific
Whether you're fitting a mansion or a small urban home, Sierra Pacific builds everything from expansive custom windowscapes to high-quality standard size windows with extraordinary performance. With new construction, you also get the advantage of our integral nailing fin for installation, which helps Sierra Pacific windows go in like clockwork. With many different styles of casements, awnings, double hugs, special shapes, sliders, and beyond your design vision will become a reality. Your region, performance needs, and aesthetic requirements will help determine the right material for your new windows, which includes aluminum clad, all wood, H3 Fusion Tech, and vinyl. No matter what you choose, you can be sure they're all made with Sierra Pacific's uncompromising craftsmanship.
Learn more about Sierra Pacific here
Replacement
Andersen
Whether you are looking to replace windows for energy efficiency, improved functionality, or curb appeal, Andersen is the solution for you. Andersen recommends their Woodwright, 400 Series double-hung, or their 400 series casement windows for replacement windows. When the original frames and trim are in good shape, you can leave them in place and insert windows into the existing frame, preserving much of the authentic look.
If the existing frame is rotted or deteriorated, you'll want to choose full-frame windows for your replacement project. Although full-frame windows generally cost more than inserts, you'll be able to maximize your visible glass using this method. Woodwright double-hung windows bring authentic old-world character to homes of all ages.
The 400 Series Tilt-Wash Double-Hung replacement windows are extremely energy-efficient, with a wide array of decorative and performance options. As a tilt-wash window, this is one of Andersen's best-selling windows. The 400 Series Casement replacement windows are extremely energy-efficient with a solid-wood sash covered inside and out by low-maintenance Perma-Shield cladding to protect against water damage. Learn more about Andersen here. 
Mathews Brothers
Mathews Brothers' Spencer Walcott line is available in new construction and replacement windows. Replacement windows are offered in single-hung, double-hung, casement, awning, horizontal slider, and picture styles. Available in several grilles, exterior trim style, and exterior color options, you are sure to find a replacement window to meet the needs of your home. Besides a wide array of style options, Mathews Brothers are committed to performance, offering customers extremely energy-efficient windows. Learn more about Mathews Brothers here. 
Skylights
VELUX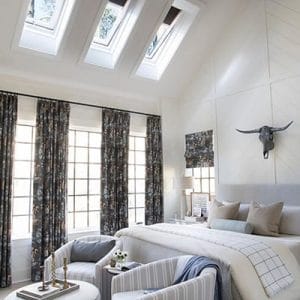 VELUX offers a complete system of complementary products and accessories for any skylight solution, from installation right down to the finishing touches, whether you're looking for fixed skylights or "Fresh Air" venting skylights. VELUX offers a Solar Powered "Fresh Air" Skylight, which features a solar panel that captures any available daylight and uses it to recharge a highly-efficient, fully-concealed, battery-powered operator and control system.
With just the touch of a single remote, you can open and close multiple skylights in your home. Additionally, a built-in rain sensor to close your skylights automatically when inclement weather arises gives ease of mind when away from your home. Viking stocks various fixed, manual "Fresh Air" venting and solar-powered "Fresh Air" venting skylights in select locations. Learn more about Velux here.  
SERVICE
To ensure that we carry through with our customer service, we have two certified warranty representatives, Bernie Garrigan and Chris Sherman. Both are certified by Andersen as specialists to troubleshoot almost any problem that may arise. Additionally, Bernie is certified by Loewen as a specialist. No matter what brand of window or door, we have the service to back it.