Exterior Doors
Entry/Front
ThermaTru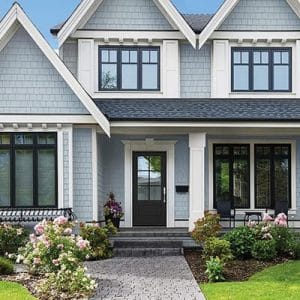 Classic Craft Collections
Extraordinary in every detail! Classic Craft's five collections of premium entryways are truly unique. Blending architectural character and precision engineering, everything about a Classic Craft entryway looks and sounds like an authentic wood door. Classic Craft premium entryways are tested and designed to resist extreme weather conditions and moisture's damaging effects. Built with a polyurethane foam core, Classic Craft provides up to four times the insulating R-Value of wood.
Fiber-Classic  Smooth-Star Doors
Fiber-Classic and Smooth-Star doors set the standard for beauty, quality, and performance at an excellent value. Craftsmanship and innovation of doors design for long-lasting energy efficacy, durability, and security. The Fiber-Classic collections feature two wood-grained styles in various door sizes and glass designs to suit any style. Are you looking to add a splash of color to your entry-way? Smooth-Star is the answer if you're looking for a smooth, paintable surface. The more attractive, durable alternative to steel, Smooth-Star doors are ready-to-paint with crisp, clean contours. Not into painting? Ask about pre-finished options! Learn more about ThermaTru here. 
JELD-WEN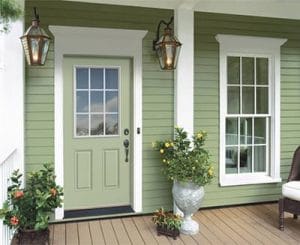 Formed with high-definition panels and wide profiles, JELD-WEN® Smooth-Pro™ fiberglass doors feature a light paint-brush stroke texture that can be painted any color, without pre-sanding or scuffing the surface, and they won't warp, dent, or rust.
Architectural™ Fiberglass
Designed to deliver beauty and performance to any residential architectural style, JELD-WEN's Architectural™ Collection of fiberglass doors and matching fiberglass components showcases authentic woodgrain replication made possible by MasterGrain's unique Nickel Vapor Deposition technology, producing a fiberglass door virtually indistinguishable from real wood that can be customized in many ways, from woodgrain to finish to glass inserts.
Expertly crafted to look virtually indistinguishable from solid wood, right down to the knots and other character marks, JELD-WEN® IWP® Aurora® Fiberglass doors feature dozens of luxurious woodgrain finishes, incomparable hardware, glass options, and the durability to stand up to any climate.
Created to resemble the beautiful, natural look of real mahogany, oak, or fir woodgrains, JELD-WEN® Design-Pro™ fiberglass doors have a high-definition panel with wider profiles to provide more depth and authenticity than traditional fiberglass doors. They won't warp, dent, or rust. Learn more about JELD-WEN here. 
Upstate Door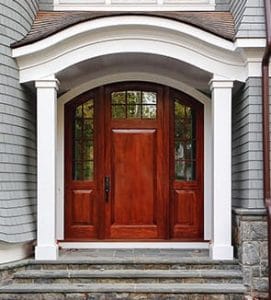 Created to be the centerpiece of your home, Upstate Door offers a full range of exterior door models, styles, colors, and woodgrain options, allowing you to choose the perfect look and feel for your home. They offer hundreds of customizable options to fit your exact needs and create custom-sized doors to meet unique needs or applications. Learn more about Upstate Door here 
Simpson Wood Doors
Welcome more beauty and quality to your home with Simpson's comprehensive collection of exterior wood doors. Available in many species of wood, styles, and glass options, you are sure to find a door to make a lasting impression on visitors to your home. Learn more about Simpson Wood Doors here. 
Patio Doors
Andersen Patio Doors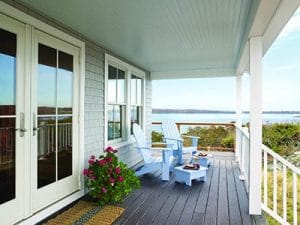 Andersen offers a wide array of patio door options available in hinged and gliding doors, sure to make a dramatic statement. Designed to open into a room or out onto a patio, these doors add excellent ventilation. Andersen offers various patio doors in different series to meet your needs, whether energy efficiency, value, or customization. Learn more about Anderson Patio Doors here 
Mathews Brothers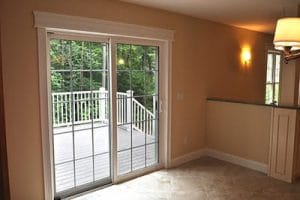 Constructed from low-maintenance vinyl, Mathews Brothers sliding patio doors are made to hold up to the weather while allowing you to experience the beauty of the great outdoors. Spencer Walcott vinyl sliding patio doors are available in two, three, or four-panel, standard, and custom sizes, with or without grilles, with either left or right operating panel. Learn more about Mathew Brothers here

Loewen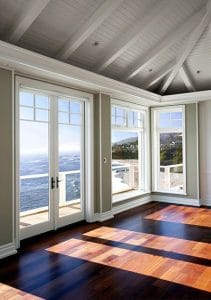 Loewen, known for its products' attractiveness and functionality, offers a wide range of patio doors. Available in sliding patio doors, swinging terrace doors, bifold doors, and LiftSlide, you are sure to find something to open up the walls in your home. Sliding patio doors function like large moving windows using laminated sash construction, thick, tempered safety glass, and smooth tandem rollers.
Swinging Terrace Doors are available in the traditional style with the hinge in the middle, so one panel is fixed. The other, French, operates with the hinges outside, allowing both doors to operate from the center. Bifold Doors are made up of multiple door panels that fold open, creating a large opening that makes for a stunning transition to the fresh air and spaciousness of outdoor living.
Available in configurations of up to 16 panels, allowing for openings up to 52 feet wide. The Loewen LiftSlide Door allows expansive glass panels to roll smoothly and easily during operation. Available in both jamb and pocketing configurations, LiftSlide Doors glide easily on almost unnoticeable, corrosion-resistant tracks. The flush track protrudes ever so slightly above the finished floor, so your interior and exterior finish flow seamlessly. Learn more about Loewen here. 
Sierra Pacific
Sierra Pacific offers a wide variety of patio doors whether you are looking to create a versatile passageway, or completely blue the lines between inside and outside. Sierra Pacific builds everything from elegant French swinging doors to entire door panel systems that disappear into a wall. With new construction, you also get the advantage of our integral fin for installation, which helps Sierra Pacific doors go in like clockwork. The door style you choose for your new construction will help your design vision become a reality, one that's limited only by your imagination. Your region, performance needs and aesthetic requirements will help determined the right material for your new doors. No matter what you choose, you can be sure they're all made with Sierra Pacific's uncompromising craftmanship.
Learn more about Sierra Pacific here.
SERVICE
To ensure that we carry through with our customer service, we have two certified warranty representatives, Bernie Garrigan and Chris Sherman. Both are certified by Andersen as specialists to troubleshoot almost any problem that may arise. Additionally, Bernie is certified by Loewen as a specialist. No matter what brand of window or door, we have the service to back it.