Installed Insulation
Heating and cooling account for 50-70% of the energy used in the average American household. Adequate insulation can reduce heating and cooling costs by up to 20%. Our Viking Insulation team installs both Owens Corning AttiCat Expanding Blown-In Insulation and JM Corbond III Closed-Cell Polyurethane Foam (SPF).
They are ready to work with you to help you decide what works best for your project, lifestyle, and budget. Good insulation can help you be more comfortable in your home or business during harsh Maine weather. All the while, using less energy and saving money.
ATTICAT EXPANDING BLOWN-IN INSULATION
Our team uses an insulation blowing machine that breaks up and fluffs the AttiCat Expanding Blown-In PINK Fiberglass Insulation, adding millions of little air pockets. This conditioning gives the AttiCat insulating power. The Fiberglass insulation does not settle, giving it a long-lasting, energy-saving R-value.
JM CORBOND III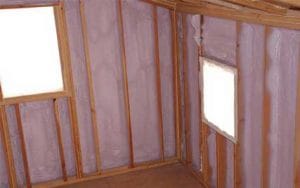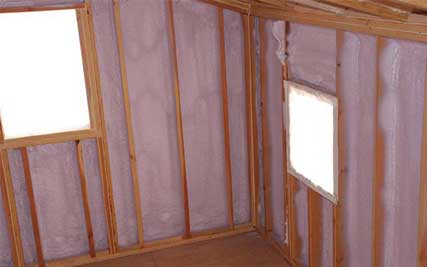 Our team of experts sprays JM Corbond III closed-cell polyurethane foam (SPF) insulation. It outperforms competing for closed-cell spray foam systems under many conditions, as JM Corbond III SPF has an extremely high R-value. Acting as a barrier to keep the indoors from the outside climate, it creates thermal, air, and moisture isolation. An R-value of over R-7 per inch of insulation attains an R-21 when sprayed at a thickness of 3-inches and an R-42 at 6-inches.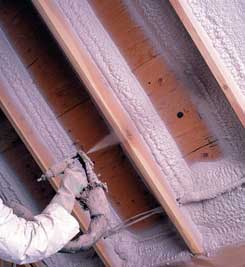 Unlike other insulation types that work by using air to insulate, JM Corbond III SPF is a solid cellular plastic that creates a dense barrier between indoor and outdoor climates. In addition to eliminating air infiltration and leakage, it is a vapor barrier and not subject to mold growth. Moisture condensation and accumulation can seriously reduce a building's longevity and can be a threat to occupant health.
When tested following ASTM E96, JM Corbond III SPF, I vapor retarder when installed at 1.5 inches within the isolation system. This dramatically reduces moisture damage. It does not support mold growth following ASTM E1338.
JM Corbond III SPF will last the life of a structure because it expands and adheres to everything it touches. Unlike other types of insulation, it will not shrink, settle, or crack. The thermal performance will not degrade over time. In fact, according to studies done by the National Association of Home Builders, closed-cell spray insulation in wall cavities, such as JM Corbond III SPF, can increase the racking strength of a wall from 75 to 200% when installed correctly.
MEET OUR VIKING INSULATION INSTALLATION TEAM
All of our Corbond spray team members have completed spray polyurethane foam health and safety courses to ensure that all insulation will be applied effectively and efficiently while adhering to all safety precautions. BJ Moore, our team expert, has received his SPF insulation master installer certification to make certain that you'll receive the best installation around.
Additionally, both BJ Moore and Brian Cross have received The Building Performance Institute's Building Analyst Energy Auditor Certification. Providing them with a broad knowledge of energy consumption and how proper insulation may increase your comfort and efficiency while decreasing your energy bills. We are proud to have BJ Moore and Brian Cross as part of the Viking Team for Viking Insulation installation!